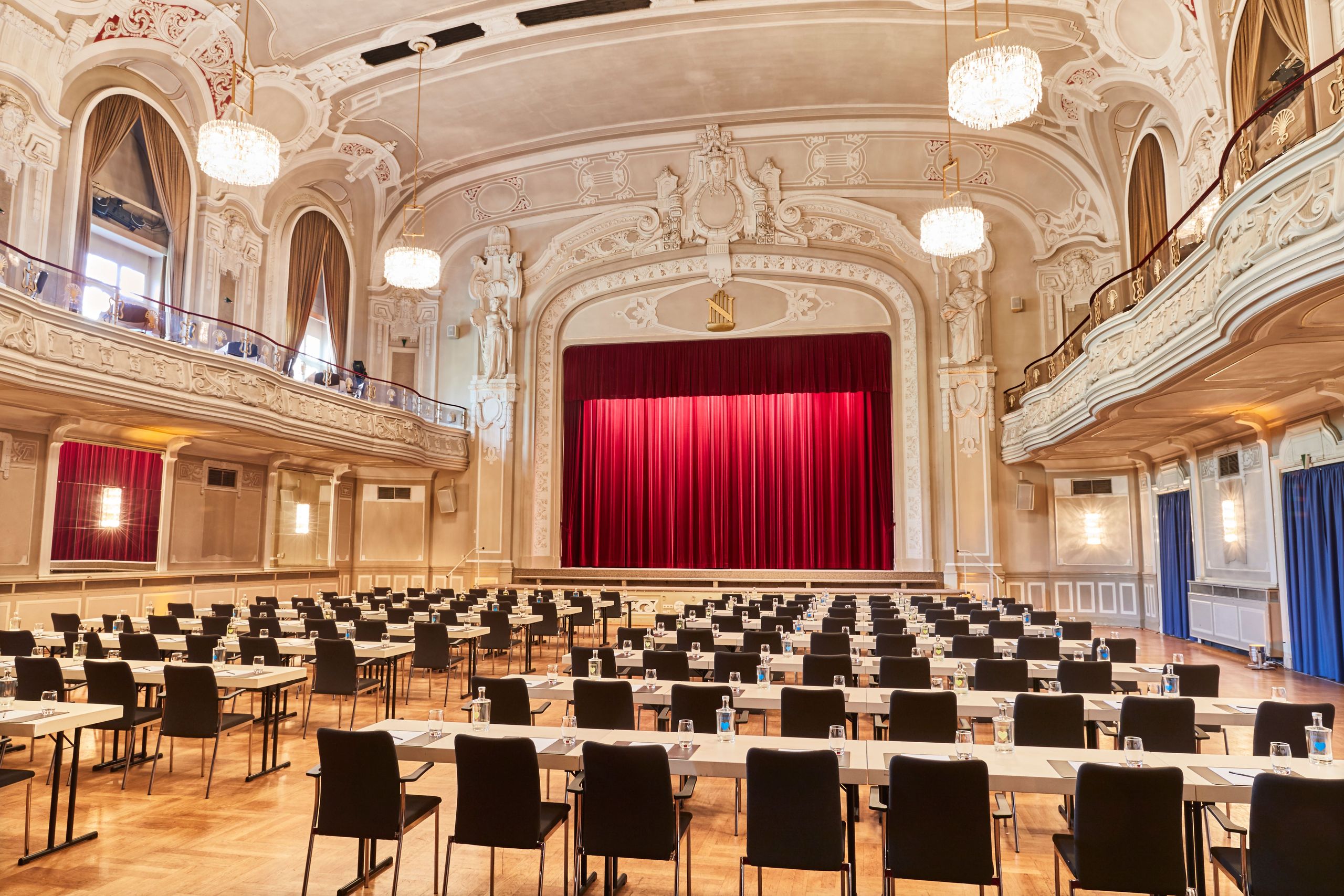 Conferences & events
Whether you are planning a business meeting for ten people, a large conference with 200 participants or a glittering ball night for 500 guests: the Steigenberger Hotel Bad Neuenahr offers you the right setting for all events.
Conference rooms in Bad Neuenahr in a glamorous ambience
The magnificent halls of the Steigenberger Art Nouveau Kurhaus can be rented for large evening events and conferences - for example for a glamorous wedding celebration or a gala dinner with business partners from all over the world.
Our service for your meetings and events in Bad Neuenahr
For your meetings, seminars and conferences, we have event rooms with modern technical equipment in various sizes. Our professional event team will plan your event according to your individual ideas and requirements. Our competent service is also at your side during your event so that you can concentrate on the most important things.
In all public areas, conference rooms and guest rooms, the use of high-speed WLAN with up to 1 GBit/s is free of charge, depending on bandwidth and access.
Contact
Convention & Events Team
Phone +49 2641 941-200
Fax +49 2641 941-413
E-mail
Plenty of room for your event
Großer Saal

Size (m²)
497
Width x length x height
18,40 x 25,30 x 12,00
Daylight
Air Conditioning
Classroom style
290
Rows
500
Reception
800
Banquet
516
U-shape
80
Gartensaal 1,2,3

Size (m²)
312
Width x length x height
Daylight
Air Conditioning
Classroom style
na
Rows
250
Reception
390
Banquet
250
U-shape
60
Gartensaal 1

Size (m²)
70
Width x length x height
5,00 x 14,00 x 3,90
Daylight
Air Conditioning
Classroom style
60
Rows
80
Reception
na
Banquet
40
U-shape
14
Gartensaal 2

Size (m²)
253
Width x length x height
9,60 x 26,40 x 3,90
Daylight
Air Conditioning
Classroom style
150
Rows
250
Reception
300
Banquet
180
U-shape
60
Gartensaal 3

Size (m²)
90
Width x length x height
5,00 x 18,00 x 3,90
Daylight
Air Conditioning
Classroom style
na
Rows
80
Reception
na
Banquet
50
U-shape
14
Barocksaal

Size (m²)
178
Width x length x height
10,00 x 17,90 x 5,50
Daylight
Air Conditioning
Classroom style
120
Rows
200
Reception
200
Banquet
150
U-shape
60
Salon Rheinland

Size (m²)
108
Width x length x height
9,00 x 12,00 x 3,05
Daylight
Air Conditioning
Classroom style
60
Rows
120
Reception
150
Banquet
140
U-shape
40
Salon Petersberg

Size (m²)
92
Width x length x height
5,30 x 17,40 x 4,60
Daylight
Air Conditioning
Classroom style
30
Rows
40
Reception
80
Banquet
40
U-shape
16
Salon Kreuzberg

Size (m²)
89
Width x length x height
6,50 x 13,80 x 3,60
Daylight
Air Conditioning
Classroom style
50
Rows
80
Reception
-
Banquet
-
U-shape
36
Salon Lenné

Size (m²)
74
Width x length x height
6,09 x 12,29 x 4,50
Daylight
Air Conditioning
Classroom style
34
Rows
54
Reception
-
Banquet
-
U-shape
24
Sonnenberg

Size (m²)
196
Width x length x height
14,80 x 13,30 x 2,80
Daylight
Air Conditioning
Classroom style
-
Rows
-
Reception
150
Banquet
130
U-shape
-
Salon Kaminzimmer

Size (m²)
137
Width x length x height
10,33 x 13,30 x 3,05
Daylight
Air Conditioning
Classroom style
60
Rows
100
Reception
100
Banquet
70
U-shape
36
Salon Johannisberg

Size (m²)
97
Width x length x height
7,31 x 13,30 x 3,00
Daylight
Air Conditioning
Classroom style
50
Rows
80
Reception
100
Banquet
60
U-shape
34
Salon Willibrordus

Size (m²)
60
Width x length x height
5,95 x 10,20 x 3,50
Daylight
Air Conditioning
Classroom style
24
Rows
30
Reception
40
Banquet
24
U-shape
20
Nürburg

Size (m²)
89
Width x length x height
6,46 x 14,26 x 2,62
Daylight
Air Conditioning
Classroom style
50
Rows
100
Reception
100
Banquet
-
U-shape
36
Eifel

Size (m²)
97
Width x length x height
6,46 x 15,10 x 2,62
Daylight
Air Conditioning
Classroom style
50
Rows
100
Reception
100
Banquet
-
U-shape
36
Ahr

Size (m²)
30
Width x length x height
4,60 x 6,60 x 2,40
Daylight
Air Conditioning
Classroom style
16
Rows
20
Reception
30
Banquet
-
U-shape
14
Mosel

Size (m²)
35
Width x length x height
4,80 x 7,20 x 2,50
Daylight
Air Conditioning
Classroom style
18
Rows
20
Reception
30
Banquet
-
U-shape
16
Landskrone

Size (m²)
24
Width x length x height
4,00 x 6,10 x 3,00
Daylight
Air Conditioning
Classroom style
-
Rows
-
Reception
-
Banquet
-
U-shape
10
Nahe

Size (m²)
35
Width x length x height
4,80 x 7,20 x 2,50
Daylight
Air Conditioning
Classroom style
18
Rows
20
Reception
30
Banquet
-
U-shape
16