Conferences and events
The Steigenberger Hotel de Saxe can find you the right space for any occasion, whether you are hosting a conference for 200 people or a private birthday party for 30 guests.
We would also be thrilled to help arrange your wedding and handle all aspects of the organization on your behalf, from the champagne reception to the evening meal.
Our catering team is always on hand to delight your guests – with light snacks for breaks during meetings or five-course menus for that anniversary celebration. Don't forget to try our unique indoor barbecue!
Contact
Mrs. Mandy Schuchardt & Mrs. Luisa Perl
Team Congresses & Events
Phone +49 351 4386820
Fax +49 351 4386899
E-mail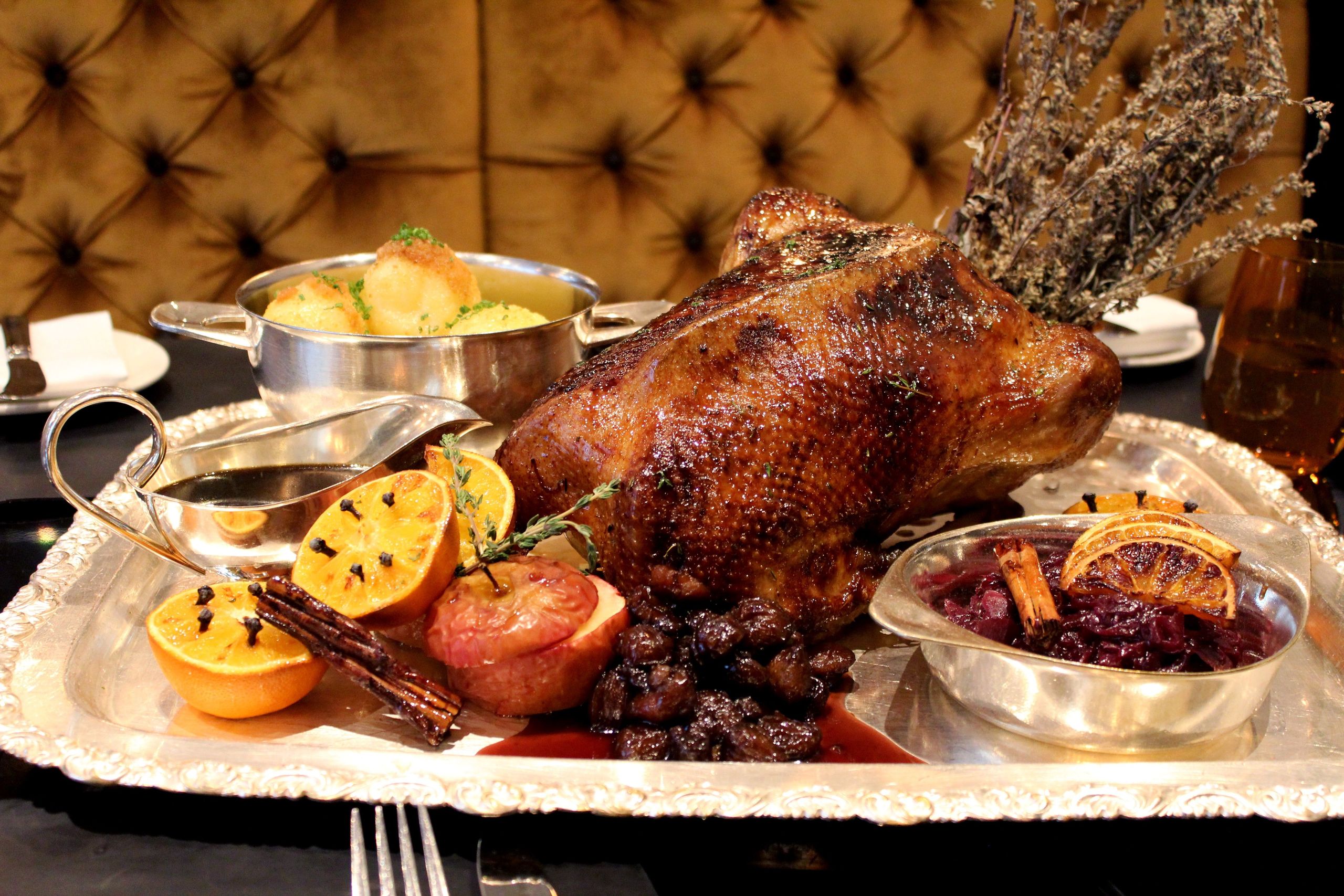 Quite a lot of goose
Conference rooms at Steigenberger Hotel de Saxe
For larger meetings and conferences, rooms with a capacity for up to 240 people are available. For intimate meetings, seminars and private parties, choose from smaller rooms with space for up to 50 people. We offer room rental for up to 10 people, and a flat rate for your meeting for 10 people or more.
Frauenkirche 1 + 2

Size (m²)
210
Width x length x height
15,00 x 13,90 x 3,40
Daylight
Air Conditioning
Classroom style
144
Rows
240
Reception
200
Banquet
120
U-shape
48
Frauenkirche 1

Size (m²)
105
Width x length x height
15,00 x 6,95 x 3,40
Daylight
Air Conditioning
Classroom style
64
Rows
110
Reception
90
Banquet
42
U-shape
34
Frauenkirche 2

Size (m²)
105
Width x length x height
15,00 x 6,95 x 3,40
Daylight
Air Conditioning
Classroom style
64
Rows
110
Reception
90
Banquet
42
U-shape
34
Weißer Hirsch & Pillnitz

Size (m²)
124
Width x length x height
9,00 x 12,20 x 3,00
Daylight
Air Conditioning
Classroom style
65
Rows
80
Reception
105
Banquet
72
U-shape
28
Weißer Hirsch

Size (m²)
69
Width x length x height
11,00 x 6,25 x 3,00
Daylight
Air Conditioning
Classroom style
36
Rows
49
Reception
55
Banquet
36
U-shape
20
Pillnitz

Size (m²)
55
Width x length x height
9,00 x 5,95 x 3,00
Daylight
Air Conditioning
Classroom style
24
Rows
40
Reception
40
Banquet
24
U-shape
14
Blaues Wunder 1+2

Size (m²)
102
Width x length x height
15,75 x 6,50 x 3,00
Daylight
Air Conditioning
Classroom style
66
Rows
103
Reception
70
Banquet
42
U-shape
36
Blaues Wunder 1

Size (m²)
48
Width x length x height
7,40 x 6,50 x 3,00
Daylight
Air Conditioning
Classroom style
30
Rows
46
Reception
30
Banquet
18
U-shape
17
Blaues Wunder 2

Size (m²)
54
Width x length x height
8,35 x 6,50 x 3,00
Daylight
Air Conditioning
Classroom style
32
Rows
50
Reception
35
Banquet
18
U-shape
18
Goldener Reiter

Size (m²)
58
Width x length x height
7,70 x 7,50 x 3,00
Daylight
Air Conditioning
Classroom style
34
Rows
50
Reception
40
Banquet
24
U-shape
20
Radebeul

Size (m²)
39
Width x length x height
8,00 x 4,85 x 3,00
Daylight
Air Conditioning
Classroom style
12
Rows
27
Reception
25
Banquet
12
U-shape
14
Meißen

Size (m²)
36
Width x length x height
7,25 x 5,00 x 3,00
Daylight
Air Conditioning
Classroom style
18
Rows
26
Reception
25
Banquet
12
U-shape
12
Moritzburg

Size (m²)
32
Width x length x height
7,50 x 4,25 x 3,00
Daylight
Air Conditioning
Classroom style
12
Rows
25
Reception
20
Banquet
12
U-shape
12